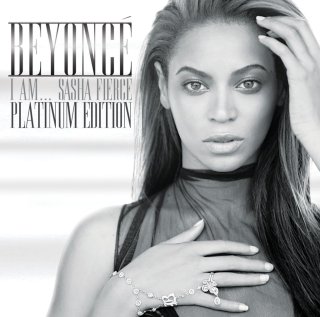 Hoy Beyoncé publica el CD+DVD I Am... Sasha Fierce Platinum Edition, una edición especial del multipremiado álbum I Am... Sasha Fierce que, al contenido original del disco, añade cuatro nuevas canciones, todos los videoclips del álbum, sus correspondientes making of, imágenes inéditas, etc.
Un lanzamiento que hará las delicias de los millones de fans de la reina indiscutible del R&B mundial que vive el mejor momento de su brillante carrera. Las cuatro canciones nuevas que se incluyen en I Am... Sasha Fierce Platinum Edition son: Why Don't You Love Me, Honesty, Save The Hero y una remezcla de Kanye West de Ego. Los vídeos y contenidos que aparecen en el DVD son: If I Were A Boy, Single Ladies (Put A Ring On It), Diva, Halo, Broken-Hearted Girl, Ego (Remix featuring Kanye West), Ego (Fan Exclusive), Sweet Dreams y Behind The Scenes: The Videos.
A estos contenidos extraordinarios hay que añadir las canciones de la versión original de I Am... Sasha Fierce: Single Ladies (Put A Ring On It), Diva, Ego, Halo, If I Were A Boy, Smash Into You, Sweet Dreams, Broken Hearted Girl, Scared Of Lonely, That's Why You're Beautiful, Hello, Radio, Video Phone, Satellites, Disappear y Ave Maria. Con su último álbum I Am... Sasha Fierce, Beyoncé ha logrado la nominación a los Premios 40 Principales 09 en la categoría de Mejor Artista Internacional. I Am... Sasha Fierce ha sido nº1 Estados Unidos y Reino Unido, Top 10 en 32 países y en España permanece hoy en lo más alto de la lista de los más vendidos después de 48 semanas con un Disco de Oro. Recientemente y con la canción Single Ladies, la estadounidense ha ganado tres premios VMAS MTV (Vídeo del Año, Mejor Coreografía y Mejor Edición), un galardón más en una carrera que en 2009 alcanza su máxima altura. Otro ejemplo: la revista Billboard ha nombrado a Beyoncé Mujer del Año. Y cierra 2009 en apogeo con la publicación de I Am... Sasha Fierce Platinum Edition. I Am... Sasha Fierce es el tercer álbum de la carrera en solitario de Beyoncé.
El anterior, B´Day, ganó el Grammy 2007 al Mejor Álbum R&B Contemporáneo, entró directamente al nº1 en Estados Unidos (donde vendió más de medio millón de discos en la primera semana) y fue nº5 en España. B'Day era la continuación de su primer trabajo como solista, Dangerously In Love, que publicado en 2003 también alcanzó el nº1, vendió más de 11 millones de discos (más de 100.000 en España con un Disco de Platino) y ganó cinco Premios Grammy en 2004. Antes de estos dos discos, Beyoncé alcanzó una enorme fama internacional como integrante de Destiny's Child, junto a Kelly Rowland y Michelle Williams.
Antes de anunciar su separación en Barcelona el 11 de junio de 2005 después de siete años juntas y siete álbumes publicados, el trío había vendido más de 52 millones de discos, siendo el grupo femenino más vendedor de todos los tiempos según World Music Awards. Beyoncé ha ganado en total diez Grammy, sumando los de su carrera en solitario y los conseguidos con Destiny's Child.